The pandemic has revealed many of the stress points in British society, it has laid bare the damage that 40 years of neoliberalism have done to the functioning and capacity of the state, and it has shown that the incompetence and arrogance of the British ruling elite is matched only by their complete lack of interest in the wellbeing of ordinary people.
Nowhere is this better illustrated than in the revelation of the miserable, starvation-level rations being doled out to children instead of the free school meals they would have had if their school was not closed. These 'poverty picnics' as the food campaigner and chef Jack Monroe described them, produced by Chartwell (a subsidiary of transnational Compass) have been roundly condemned as completely inadequate and wildly over-priced.
The resulting public uproar included condemnation from the Children's Commissioner for England, Anne Longfield, who tweeted:
Whoever thinks it is ok to send out bits of vegetables and fruit like this AND scraps of other food in what seems to be money bags is very wrong. Imagine thinking that the saving to be made on half a carrot was worth it or that it might be hygienic enough to send out fish in bags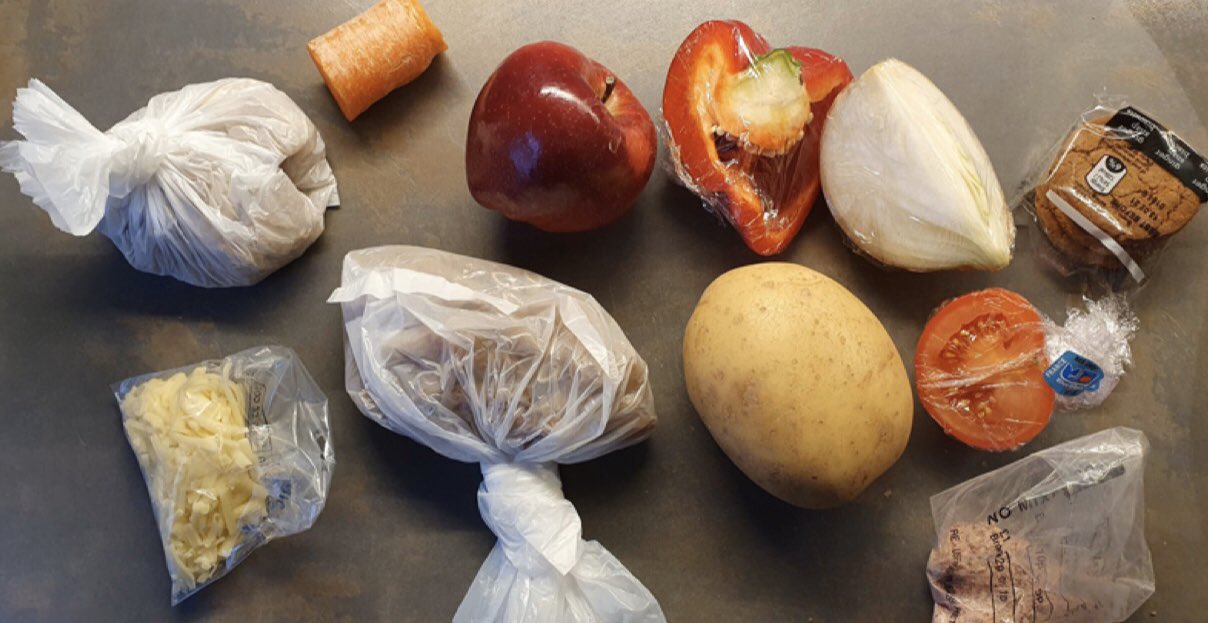 Even Keir Starmer was moved to describe these 'woefully inadequate free school meal parcels' as 'a disgrace.' He went on to ask 'Where is the money going?' But it seems pretty clear that the money is going into the profits of Chartwell and its parent company.
A more alert Leader of the Opposition would have used the opportunity to demand of the Tories that meals packs are replaced by cash or if meals packs are used at all, they should be of high quality and standards monitored by committees of local authorities, parents, schools and pupils. He should also have demanded that companies responsible for this are immediately removed from any tender list and blacklisted for all future public sector contracts and that all free school meals provision is urgently moved in-house as the first stage of bringing all school meals provision in-house (both during and post-pandemic) with all children being provided with free school meals.
Naturally, the Tories will claim that this is unaffordable. They are, of course, wrong but after the last nine months of billion pound crony contracting, the Tories are in a completely indefensible position. Even before they showed that the state is easily able to afford huge amounts of public spending when the will is there, it was always affordable as Finland has shown that free, high quality, municipally provided school meals are not only affordable but feasible and effective, and has done so since 1948.
The state has always had to be pushed into taking action to benefit working class communities, especially over issues like children's school meals – the latest case before this one being the campaign headed by Marcus Rashford, who shamed the government into action last year.
Like many public services, school meals exist partly because of the campaigns of the labour movement and partly because there are advantages to the state in ensuring that a minimum level of support exists for working class families. Few realise that the origin of school meals in the UK goes back to the discovery by the British military that the average working class recruit for their colonial wars were so malnourished and unhealthy that the height requirement had to be reduced for recruitment of troops for the Boer War of 1899-1902. Only one in nine prospective recruits were healthy enough to sign up. In response to this the government of the day set up the Interdepartmental Committee on Physical Deterioration, which led directly to the Education (Provision of Meals) Act in 1906.
Healthy children were seen as an investment for tomorrow's workers and soldiers and school meals were a way of ameliorating malnutrition. The legislation was minimalist in that it did not compel local authorities to do anything; it simply allowed them to provide school meals. But if they did so, there were limits. An expenditure limit was set by central government, the money had to be raised locally from the rates. Free or reduced charge school meals could only be provided for those children identified by medical experts as malnourished, all other children had to pay at least the costs of the meal.
Some elements of the ruling class already knew about the dire impact of poverty and malnutrition on the nation's children and some reformers – often led by socialists – pushed for change. But a slow realisation of the impact of food poverty and a grudging acceptance that something had to be done, only gained support among the Boris Johnsons of the day when they realised that it was jeopardising British capitalism's efficient working and recruitment for the imperial army.
Compulsory education was introduced throughout Britain in 1880 with the Elementary Education Act (it was already law in Scotland) and this revealed the extent of malnutrition in children. If compulsory education was part of the need to create the disciplined, literate and numerate workforce required for industrial production, then the fact that (as the 1906 Act explained) many children were 'unable by reason of lack of food to take advantage of the education provided for them' demanded action.
In Scotland, the provision of hot meals at school was in part a deliberate inducement for school attendance and compliance with the Education (Scotland) Act of 1872. In his study of poverty in York, the Quaker philanthropist, Rowntree commented in 1902: 'The relation of food to industrial efficiency is so obvious and so direct as to be a commonplace among students of political economy'.
So there was an instrumentality about the highlighting of food poverty, even among the liberal social reformers of the time. This was a major feature of school meals provision in this first phase. The instrumentality of the ruling class went side by side with the campaigning of the labour movement. Like many public services and reforms, the school meals service was a contested area with different objectives for the representatives of the different classes. The 1906 Bill to introduce school meals was proposed by a Labour MP. It became the 1906 Education (Provision of Meals) Act and was part of a range of social legislation (including reforms relating to occupational health, housing and national insurance) brought in by the Liberal government. Fred Jowett, elected Labour MP for Bradford in 1906, made his maiden speech on school meals saying: 'Education on an empty stomach is a waste of time'. The Liberals overcame their fear that provision of school meals could undermine family responsibilities (an early example of the 'nanny state' argument) because they were more nervous about the developing labour movement. To a certain extent these reforms were a response to trade union pressure from outside Parliament.
The second phase began with the 1944 Education Act and compared with what preceded it, was a revolutionary change, embodying the new welfare state approach which was to define the 1945 Labour government and the political consensus for the next 35 years.
All Local Education Authorities (LEAs) were obliged to provide school meals and milk in primary and secondary schools. The authors of the legislation intended that school meals should be an integral part of the school day. In the spirit of the times, this was a universalist, national system. It was a move away from a system designed to feed the very poorest – a safety net against malnutrition – into a national scheme for all children. Nutritional standards were based on those established in 1941 by a team of nutritionists (incidentally the first ever national minimum nutritional standards in Britain), a standard price was stipulated across the whole country and school meals had to be suitable as the main meal of the day, providing children with one third of their daily requirements of nutrients and energy. LEAs' new powers were not limited just to the provision of school lunches. They were allowed to provide other meals and to continue the service on weekends and holidays. The act was based on the experience of the inter-war and wartime years.
Even before 1939, it was clear that the school feeding model was inadequate, but during the war, several issues brought the need for change into sharp focus: rationing failed to meet the special needs of children; civic catering facilities were set up in response to bombing and consequent population movement, including children's evacuations; meals provided at school became a necessity for many families as women filled the gaps in the labour market caused by men's conscription; and the new family allowance included free school meals and free school milk.
This welfare state approach based on collective and universal provision, rested on a view of citizenship with rights and entitlements. Like much of the rest of the welfare state, at its best it was revolutionary, where it fell down was in an excess of paternalism and an absence of direct democracy. Nevertheless, children were seen as citizens in post war reconstruction – perhaps more accurately future citizens or children of citizens. It was a long way from the reluctant abandonment of laissez faire that characterised the 1906 act, and this welfarist approach survived until 1980.
The Conservative election victory in 1979 was a turning point for school meals provision like every other public service in the UK. But this change did not come without warning. After the 1973 oil crisis and the resulting end of the long post war boom, there was an increasing questioning of the welfare state in Britain. Pressure on public spending increased, especially after the then Labour government called on International Monetary Fund (IMF) loans and was obliged to accept IMF economic direction.
The election of the Thatcher government saw an overt rejection by government of the ideas behind the welfare state, of which the school meals service was a small but important component. It was part of the highly unionised local government sector. Not only that, but it was a very clear example of the post war Labour government's welfarist approach which – at its best – saw a service like school meals as having a multi-functional role against poverty, disease and malnutrition and as a contribution to health, education and social welfare provision. And most irritiating of all for the Tories, it was a non-market area of service provision that potentially could be remodelled, contracted out and the service commodified.
Thatcher saw public ownership or public services and strong unions as the twin props of 'socialism'. In her 1993 autobiography, she described privatisation as:
… one of the central means of reversing the corrosive effects of socialism… Just as nationalisation was at the heart of the collectivist programme by which Labour governments sought to remodel British society, so privatisation is at the centre of any programme of reclaiming territory for freedom.
The 1980 Education Act was a part of this drive to begin to remove the state from various aspects of life in Britain. It relegated school meals to a non-essential service, removed the obligation on LEAs to provide school meals (except for those pupils entitled to free meals). It obliged schools to provide somewhere for pupils to eat a packed lunch. Before this, heads had the power to prevent pupils bringing packed lunches to school. Nutritional standards were abolished and fixed pricing was ended.
The 1986 Social Security Act introduced restrictions on eligibility for free school meals. Rules were tightened again in 1992. In each case thousands of school children lost the right to a free meal. The 1986 act limited entitlement to free school meals to children whose families received income support and was removed from those receiving family credit. This resulted in 400,000 children losing entitlement to free school meals.
The 1988 Local Government Act saw the introduction of compulsory competitive tendering (CCT) that forced LEAs to put school meals services out to tender. This drove down prices and quality, regardless of whether the service was contracted out or not, as local authorities were obliged to let the contract to the tender offering the cheapest price. Local authorities were also prohibited from 'anti-competitive behaviour' through the use of contract compliance or any reference to 'non-commercial matters'. In other words, local authorities could not require bidders to meet certain standards seen as not directly related to the service, such as the pay and conditions of the workforce.
At around this period, secondary schools turned to cash cafeterias and away from traditional school canteens serving a standard lunch. Rising prices (following the abolition of national pricing) was combined with a significant drop in the proportions of pupils taking school meals – from 64% in 1979 to 47% in 1988. With no obligatory nutritional standards, schools increasingly used their meals service as a revenue generator. In order to maximise sales, much of the same poor quality food as available in high street fast food outlets appeared in school cafeterias. Under the banner of 'choice', schools moved from a system in which the school children had access to a regulated, standard provision to individual consumers selecting from a range of alternatives, although the focus on the consumer was much less important than the focus on reducing public expenditure.
Things did improve with the election of a Labour government in 1997. Eventually more money was made available to local authorities, nutritional standards were brought back, devolved administrations also improved the service in a number of ways. But there was considerable unease about the limitations of the reforms. The Labour government largely retained contracting out of local government services (under the rubric of 'Best Value') and with its evangelical attitude to PFI, usually welded into the new schools' service, the contracting out of services like school cleaning and catering. With the latter, one of the major problems was that many, if not most, PFI schools were built without a 'prime' kitchen where food could be cooked from scratch and so relied on 'regeneration' kitchens that simply reheated cook-chill dishes made on a different day in a different place.
The damage by the Tories under Thatcher and Major was not reversed under Blair and Brown. Since then school meals have predictably suffered further under the Tories. Contracting out and cuts in funding have seen a combination of unsatisfactory standards and mediocre food for school students and precarious work, low pay, deskilling, and a lack of training for school meals staff.
The current scandal around the laughably described 'food hampers' should be used by Labour and the main unions representing what's left of the unionised workforce (UNISON and GMB) to revitalise the school meals service. It is a small example of how a de-commodified service could and should operate. It is part of the long tradition of collective responses to individual problems. As the late Wales First Minister Rhodri Morgan pointed out in 2002, the school meals movement was not simply a battle against malnutrition:
… the Fabian Society launched its pamphlet And They Shall Have Flowers on the Table in Cardiff at the turn of the last century. The title of that pamphlet made it clear that school dinners were to be a social and educational experience, as well as one which provided food for families where that was badly needed.
Services like school meals should be examples of the sort of combined national and local campaign focus that Labour needs to adopt in the four years between now and the next election. Where necessary, local authorities need to be pressurised to provide the sort of high quality service that is required. Labour in Parliament needs to use the public attention to press for the necessary funding. Local parties and unions should link up with parents groups, environmentalists, public health and child welfare campaigners to push the many sided benefits of taking school meals out of the market and using the service as part of a publicly provided, locally produced and sourced, sustainable, democratic, healthy public service.
Note: Much of the historical section of the above is based on a pamphlet that I wrote for UNISON – School Meals, markets and quality